Iron Man Electric Longboard
|
I had a couple of events on which took me away for five days, so I decided it would be cool to build something at the events using 3D printing. There are some videos about this project, or scroll down for pictures and words: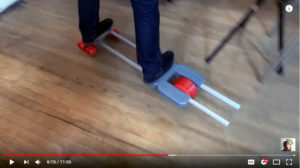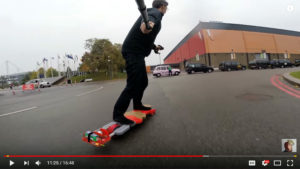 The main construction of the board was 3D printed parts in PLA – made with the Lulzbot MOARstruder with its 1.2mm nozzle. These parts are only 10% infill with two perimeters, but they are really strong.
The back wheel is another MOARstruder print with a Ninjaflex tyre printed at 80% infill. It is mounted on bearings on a steel tube.
All the parts are slotted and screwed onto 2020 aluminium extrusion – it stayed dead straight despite all the people trying it.
I'm using a VESC BLDC ESC to drive a 280Kv 1Kw brushless outrunner with drive belt straight on the single back wheel
Check out the video above to see it in action.